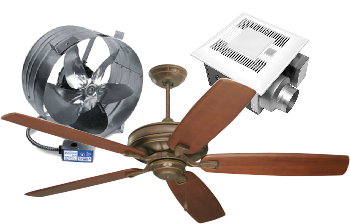 When you want to improve the energy efficiency of your AC/heating system and comfort levels of your home,
Ceiling Fans
Installing a ceiling fan is a great way to maintain a healthy indoor environment and enjoy increased energy efficiency at the same time. While ceiling fans can't actually change the air temperature itself, they can keep the air moving to aid in heating and cooling efforts, which will ultimately decrease your overall energy consumption.
There are several different ceiling fan styles available, From digital control to variable-speed control, spinner fans to cast-iron fans, we're well versed in nearly all types of ceiling fans and installation techniques. We know what it takes to provide you with unbeatable workmanship no matter what type of fan you'd like installed.
Attic Fan Installation
In addition to ceiling fan installation, we also offer complete attic fan installation. Useful for increasing ventilation and regulating the heat level in your attic, these fans are usually controlled by a thermostat. We'll configure your attic fan installation so that it is incorporated into an existing electric circuit, and we will also integrate a thermostat or manual switch depending on which attic fan model you've selected - even if you just need to replace an old or outdated fan.
Bathroom Exhaust Fan
Bathrooms present a particular challenge in that they tend to endure high levels of moisture in addition to high temperatures. Given that excess moisture can cause peeled paint, warped doors, and accelerated mold growth, it's important to equip your bathroom with an exhaust fan that will move the air out quickly and quietly. There are several types on the market built to prevent the problems associated with heavy moisture build-up in bathrooms.




Get A High-quality Fan To Circulate or Exhaust And Feel the Difference


We accept all forms of payments: Cash Checks, Visa, Master Card, Discover, Paypal & American Express
Appointments & Emergencies
(910) 722-9862

CONTACT US
True North Mechanical ©2008, All Rights Reserved